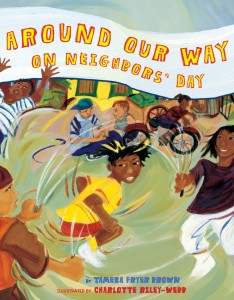 "Blue sky, no clouds,
Summer heat, side street,
Whirling, whizzing feet.
Everyone is out to play
Today, around our way…"
Neighbors gather on a hot summer day for a joyful block party—kids play double Dutch; men debate at the barbershop and play chess; mothers and aunts cook up oxtail stew, collard greens and other delicious treats; and friends dance and sway as jazz floats through the air.
A rhythmic tale that celebrates the diversity of a close knit community, Around Our Way on Neighbors' Day will fill young readers with excitement to discover the spirit of their own special surroundings.
Around Our Way on Neighbors' Day
by Tameka Fryer Brown, illustrated by Charlotte Riley-Webb
Abrams Books for Young Readers
Published August 2010
ISBN-13: 978-0-8109-8971-9

💗 A Little Free Library.org® Action Book Club™ Selection
💗 Over 100,000 copies sold