What color is your mood?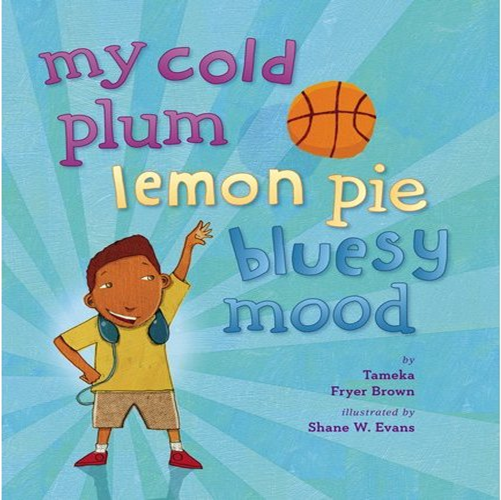 On a really good day, Jamie feels purple…like the first bite of a juicy cold plum.
And with a crayon in his hand, Jamie eases into a green feeling…like a dragon dancing through a jungle made of green Jell-O.
But when his brothers push him around and make fun of his drawings, Jamie feels gray like a dark storm brewing.
What will it take to put Jamie back in a bright-feeling mood?
Through Jamie, young readers will learn to describe their feelings in a unique way.
**2014 CHARLOTTE ZOLOTOW HONOR AWARD WINNER**
"In a free-wheeling style and going far beyond the usual pairings of colors with moods…a nicely sophisticated exploration." —Kirkus

"It's valuable both for its believable exposition of Jamie's interior world and for its warm portrait of the life of a nonwhite family in which sharing is essential, rules are followed, conflicts are resolved, and meals are enjoyed together."–Publisher's Weekly

"An excellent jumping-off point for discussion—or writing—about readers' own colorful moods." —Booklist

"In refreshingly inventive free verse, sprinkled with some rhyming lines, MY COLD PLUM LEMON PIE BLUESY MOOD does what the best poetry does: expresses feelings with nuance and metaphors…it sends a subtle message that it's OK to have different moods (everybody does), and it's cool for boys to open up about their feelings." –Common Sense Media (5 Stars)
My Cold Plum Lemon Pie Bluesy Mood
by Tameka Fryer Brown, illustrated by Shane W. Evans
Viking Children's/Penguin
Published March 2013
ISBN-10: 0670012858 / ISBN-13: 978-0670012855